Research Education Core (REC)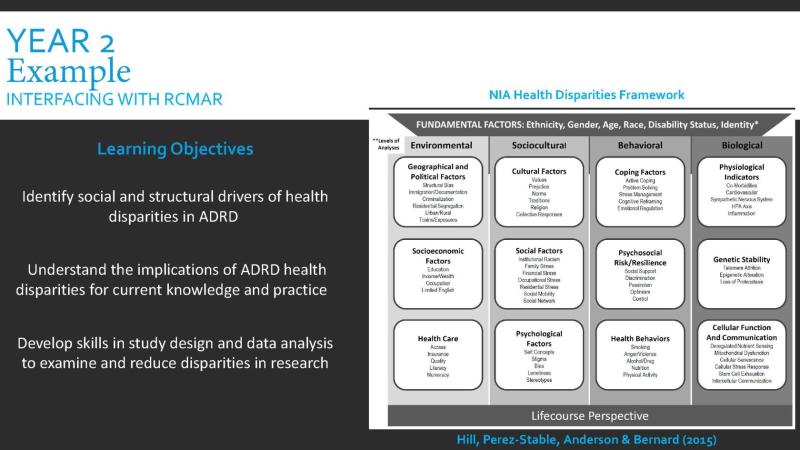 Director
Why REC? Why Now?
The Research and Education Core (REC) enhances the primary aims of the Columbia ADRC - to enable and contribute to ongoing Alzheimer's disease research efforts. ADRC REC trainees are chosen from clinical, basic, translational, and epidemiological fields and unconventional pathways. The ADRC REC provides educational activities that complement or augment training in biomedical, behavioral, and clinical areas of dementia-related research to support development of future research leaders in ADRD.
The ADRC encourages applicants from diverse educational and sociological backgrounds. The REC provides training for two distinct groups of researchers:
The program supports high-potential early-career investigators who have already demonstrated relevant skills and accomplishments
The second group of trainees possesses unique and accomplished research skills and competencies in other domains, which if re-oriented to ADRD, would likely make a novel and important impact on ADRD research
Adoption of this unique diversity and inclusion developmental program supports introduction of novel methodologies further enabling innovative ADRD research.
The Alzheimer's Disease Research Center (ADRC) has funds to support Research Education Scholars beginning in July 2023.
The Research Education Component (REC) of the ADRC supports the development of future leaders in the field of Alzheimer's disease and related disorders (ADRD) through training and research support.
Training: Each year, the REC provides up to 5 scholars with a breadth of training in ADRD through monthly seminars, tailored didactics, and professional development activities. Group didactics, spanning a wide variety of topics in ADRD, are complemented by individual training plans to fill gaps in specific skills or knowledge areas unique to each scholar.
Research Support: The REC will fund mentored pilot studies for two years. Project budgets typically range from $10,000 to $20,000 per year. Applicants are asked to clearly justify the requested funds, keeping in mind that the review committee may recommend a reduction in budgets requested at $20,000, as not all projects can be funded at this level.
ELIGIBILITY REQUIREMENTS – The REC Program is designed for investigators at the postdoctoral, instructor or Assistant Professor level. Priority will be given to applicants who self-identify as members of underrepresented groups in health-related sciences. (https://diversity.nih.gov/about-us/population-underrepresented)
PROPOSAL FORMAT
1) Attach 3-page application available on website
2) CV
3) Letter of support from an identified research mentor
BUDGET: The REC typically supports projects that range from $10,000 to $20,000.
APPLICATION DEADLINE: May 1, 2023 11:59PM
ANTICIPATED PROJECT START DATE: July 1, 2023
SUBMIT PROPOSALS VIA EMAIL ONLY in Word format
Allison Heaps, M.S.
THESE FUNDS ARE AVAILABLE THROUGH NIH GRANT AG066462-03