Stroke and Cerebrovascular Disease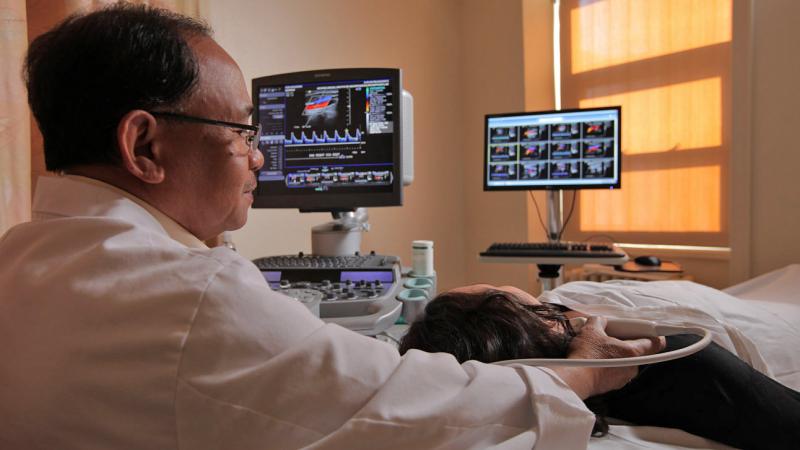 Our Stroke and Cerebrovascular Disease specialists create a continuum of care—from the moment a patient arrives—to minimize damage and give you the best chance of survival and recovery of quality of life and function. We are global leaders in the treatment of arteriovenous malformations (AVMs) and aneurysms. Our team of experts include:
Neurologists, subspecialty-trained in stroke and cerebrovascular disease
Neurosurgeons
Interventional radiologists
Neurointensivists, in a dedicated Neurological Intensive Care Unit (one of the first in the country)
Neuroanesthesiologists
Neuropsychologists
Rehabilitation specialists
People come to us by many routes, but always in immediate or imminent crisis. The brain, and the cerebrovascular system that supports it, are critical to our function and identity—walking, talking, seeing, hearing, thinking, and knowing ourselves and others.
Our team will review your case and develop a plan tailored to your specific needs so that each patient receives exactly what is needed to diagnose, treat, and/or prevent stroke and other cerebrovascular disorders, and restore their quality of life. Whether you arrive by ambulance to the emergency room, by visiting one of our physicians' offices, or by referral from across town, across the nation, or across the globe, rest assured that you are in good hands.
Each member of our neurological team is subspecialty-trained to manage the complex needs of patients with stroke and cerebrovascular disease. The extraordinary breadth of our capabilities allows us to deliver a quality of care that is truly cutting-edge and world-renowned.
NYP Neuro-ICU
After a devastating cerebrovascular event, outcome may totally depend on the resources, monitoring, and action taken in the first 24 to 72 hours. That is why many families request transfer to our NewYork-Presbyterian Hospital and its Neurological Intensive Care Units (Neuro-ICU), as the only multi-disciplinary, academic, neurocritical care facility in the greater New York area. We are national leaders in research devoted to developing advanced treatments for life-threatening neurological diseases, and offer the most sophisticated diagnostic technologies in neuroscience.
Conditions We Treat
Aneurysm
Arterial dissection
Arteriovenous malformation
CADASIL
Carotid artery disease
Carotid artery stenosis
Cerebral amyloid angiopathy
Cerebral vascular disease
Moyamoya
Sinus Venous Thrombosis
Stroke
Transient cerebral ischemia
Services We Offer
Our nationally accredited Doppler Neurosonology Laboratory provides a full line of neurovascular diagnostic services onsite, including state-of-the-art ultrasound imaging of the carotid, vertebral, and subclavian arteries, as well as Circle of Willis. More than 5,000 duplex carotid and transcranial Doppler studies are performed in our lab each year.
Procedures available in the Doppler Neurosonology Laboratory include:
Carotid and vertebral artery Doppler (duplex) ultrasound with color/power Doppler
Transcranial Doppler (TCD)
Vasomotor reactivity test for cerebral blood flow
Microemboli detection with IV microbubble injections
Transcranial color coded duplex sonography (TCCD)
Intimal-media thickness (IMT) measurements