Fellowship Programs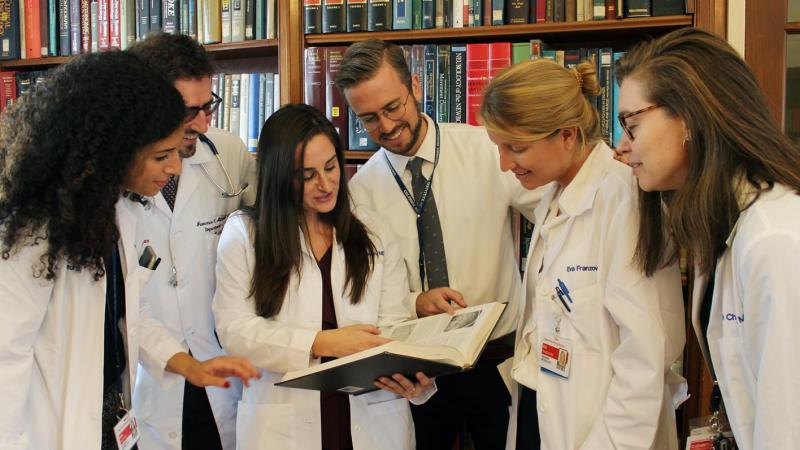 The mission of the Columbia University Department of Neurology post-doctoral fellowship training programs is to train the next generation of leaders in neurological clinical care, research, and education.  In particular, our goals are:
In alignment with the mission of the Department of Neurology Diversity, Equity, and Inclusion Program, we aim to recruit and train a diverse and inclusive body of fellows regardless of gender, age, culture, race, religion, disabilities, sexual orientation, and veteran or immigration status;
To educate and develop early-career physicians to focus on excellence in the delivery of safe, equitable, affordable, quality care, while maintaining sensitivity to the overall health and wellbeing of the diverse populations they will serve;
To provide trainees with the most comprehensive and advanced clinical training opportunities in their specialty of interest;
To make available to fellows education and training in research methodology for basic, clinical, and translational research;
To provide trainees who have an interest in research with the knowledge, skills, and resources to obtain research funding;
To provide fellows with opportunities to participate in cutting-edge research in their area of specialization;
To adhere to institutional and national guidelines for training of fellows;
To provide trainees with the knowledge, skills, and resources to obtain academic or other positions.
Our fellowship opportunities continue to evolve. We have recently added Hospitalist Neurology and Neuro-oncology programs. Fellows have abundant opportunities to engage in research as well. Columbia has both R25 and T32 fellowship training opportunities, funded by the NINDS. The goals of both these programs are to help fellows obtain experience and preliminary data to enable them to submit competitive mentored research career award applications (K23, K08, or K99).
R25: Those who have previously participated in R25 research mentorship programs at Columbia or other institutions may apply for up to 2 years of additional fellowship funding to participate in research. R25 program is run by Dr. Kuo, and interested applicants should contact Sheng-Han Kuo, MD.
T32: Our NINDS-funded Neuroepidemiology T32 provides an opportunity for neurologists to engage in a 2 year dedicated clinical and research training opportunity, including coursework in epidemiology and biostatistics; participation in a research project; and clinical training in a subspecialty of neurology. Participants must be US citizens or permanent residents. T32 program is run by Dr. Willey, and interested applicants should contact Joshua Willey, MD, MS.

Other research training opportunities: Previous fellows have also obtained other national, competitive grants (AAN, LeDucq, AHA) and internal pilot awards from the Sergievsky Center, the Apgar Academy, and the Neurology Department.