Behavioral Neurology and Neuropsychiatry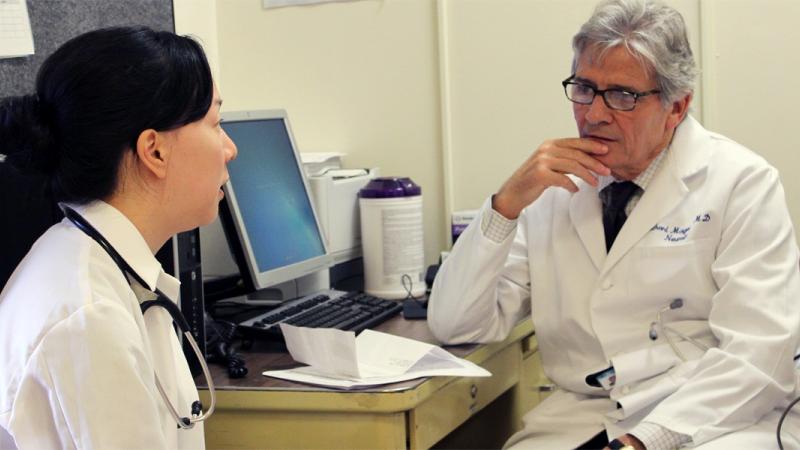 The Department of Neurology at NewYork-Presbyterian/Columbia University Irving Medical Center is an Equal Opportunity and Affirmative Action employer and educator. For more information about our mission to ensure a diverse and inclusive community, please visit our Diversity, Equity, Inclusion, and Accessibility (DEIA) Program.
Welcome to the Fellowship Training Program in Behavioral Neurology And Neuropsychiatry Fellowship Program.
Features
Two- to three-year training program
Results in eligibility for United Council for Neurologic Subspecialties (UCNS) certification in behavioral neurology and neuropsychiatry
Salary consistent with PGY level
Application: Preferred by June 1, accepted until November 1, year prior to fellowship
Our Program
We have developed a comprehensive program in Aging and Dementia that combines both training in the diagnosis and management of a wide variety of neurocognitive disorders, observational studies, and clinical research. Fellows may also choose to spend time in the laboratory.
We see over 1000 new patients and 3,000 follow-up visits per year in the division of Aging and Dementia including Alzheimer's disease, MCI, FTD, Lewy body disorders including DLB and PDD, Huntington's disease, CBD, PSP, CJD and concussion. Fellows gain extensive experience in the evaluation and management of a broad array of patients with neurodegenerative disease. Fellows receive real-time feedback on their assessment and management of these patients in the faculty practice, and Huntington's Disease Center.
There are extensive research opportunities in both clinical and laboratory-based research. Fellows see research participants in the Alzheimer's Disease Research Center. Other opportunities include observational studies in Frontotemporal Dementia and Dementia with Lewy Body and participation in clinical trials. Many fellows have completed the T32 Neuroepidemiology Training Program.
We have a joint monthly journal club with the Movement Disorders Division and many fellows have completed a six-month rotation in Movement Disorders. Given our emphasis on behavioral disorders that involve both cognition and movement (e.g., Huntington's disease, dementia with Lewy bodies, PSP and MSA), this has been a natural evolution. Fellows run a Behavioral Neurology and Neuropsychiatry Rounds where they interview and examine a patient and discuss findings at a monthly conference. Other conferences include a weekly clinical consensus conference through the Alzheimer's Disease Research Center, a monthly clinicopathologic correlation conference (CPC), weekly review of neuropsychological testing results, and monthly journal club. We have been designated a New York State Center of Excellence for Alzheimer's Disease (CEAD), a Lewy Body Research Center of Excellence (LBRCOE), and a Huntington's Disease Center of Excellence and most recently a CurePSP Center of Care with our colleagues in Movement Disorders. We also have programs in Concussion, Frontotemporal Dementia and Women's Health, all providing a rich clinical experience.
Requirements and Eligibility
Behavioral Neurology and Neuropsychiatry Fellowship Program requires completion of neurology or psychiatry residency.
Apply
To apply for the fellowship, the applicant must possess a New York State Medical License on the start date of the fellowship. Columbia University takes affirmative action to ensure equal opportunity. Applications are reviewed by a diverse committee.
All documents must be sent to Terri Rivera at tr2454@cumc.columbia.edu and must include:

Personal Statement
Three Letters of Reference
Current Curriculum Vitae
Contact
Karen S. Marder, MD, MPH, FAAN

Sally Kerlin Professor of Neurology; Fellowship Director, Division Chief of Aging & Dementia, Columbia University Irving Medical Center

Terri Rivera

Administrative and Fellowship Coordinator
Fellowship Faculty
Stephanie Assuras, PhD, ABPP-CN – Associate Professor of Neuropsychology (in Neurology), CUIMC
Karen L. Bell, MD – Professor of Neurology, CUIMC
Adam Brickman, PhD – Professor of Neuropsychology (in Neurology, the Taub Institute for Research on Alzheimer's Disease and the Aging Brain and the Gertrude H. Sergievsky Center)
Elise Caccappolo, PhD – Professor of Neuropsychology (in Neurology and in the Taub Institute for Research on Alzheimer's Disease and the Aging Brain), CUIMC
Stephanie Cosentino, PhD – Associate Professor of Neuropsychology (in Neurology, the Gertrude H. Sergievsky Center and the Taub Institute for Research on Alzheimer's Disease and the Aging Brain)
Devangere Devanand, MD – Professor of Psychiatry in Neurology, CUIMC
Jill Goldman, MS, Mphil, CGC – Professor of Genetic Counseling in Neurology, CUIMC
Lawrence S. Honig, MD, PhD, FAAN – Professor of Neurology, CUIMC
Radhika Jagannathan, MD, PhD –Assistant Professor of Neurology (in the Taub Institute for Research on Alzheimer's Disease and the Aging Brain), CUIMC
Jennifer Manly, PhD – Professor of Neuropsychology in Neurology
Richard P. Mayeux, MD, MSc, FAAN – Gertrude H. Sergievsky Professor of Neurology, Psychiatry and Epidemiology; Chair Dept. of Neurology; Director Sergievsky Center; Co-Director Taub Institute
James Noble, MD, MS – Associate Professor of Neurology (in the Taub Institute and the Gertrude H. Sergievsky Center), CUIMC
Sarah A. O'Shea, MD - Assistant Professor of Neurology (in the Gertrude H. Sergievsky Center and in the Taub Institute for Research on Alzheimer's Disease and the Aging Brain)
Serge Przedborski, MD, PhD – Page and William Black Professor of Neurology in Pathology and Cell Biology and Neuroscience
Yaakov Stern, PhD – Florence Irving Professor of Neuropsychology (in Neurology, in Psychiatry, in the Gertrude H. Sergievsky Center and in the Taub Institute for Research on Alzheimer's Disease and the Aging Brain) to Honor Dr. Linda D. Lewis, CUIMC
Andrew Teich, MD, PhD – Associate Professor of Pathology and Cell Biology (in Neurology)
Jean Paul Vonsattel, MD – Professor Emeritus of Pathology and Cell Biology at the Columbia University Medical Center; Special Lecturer