Serge Przedborski, MD, PhD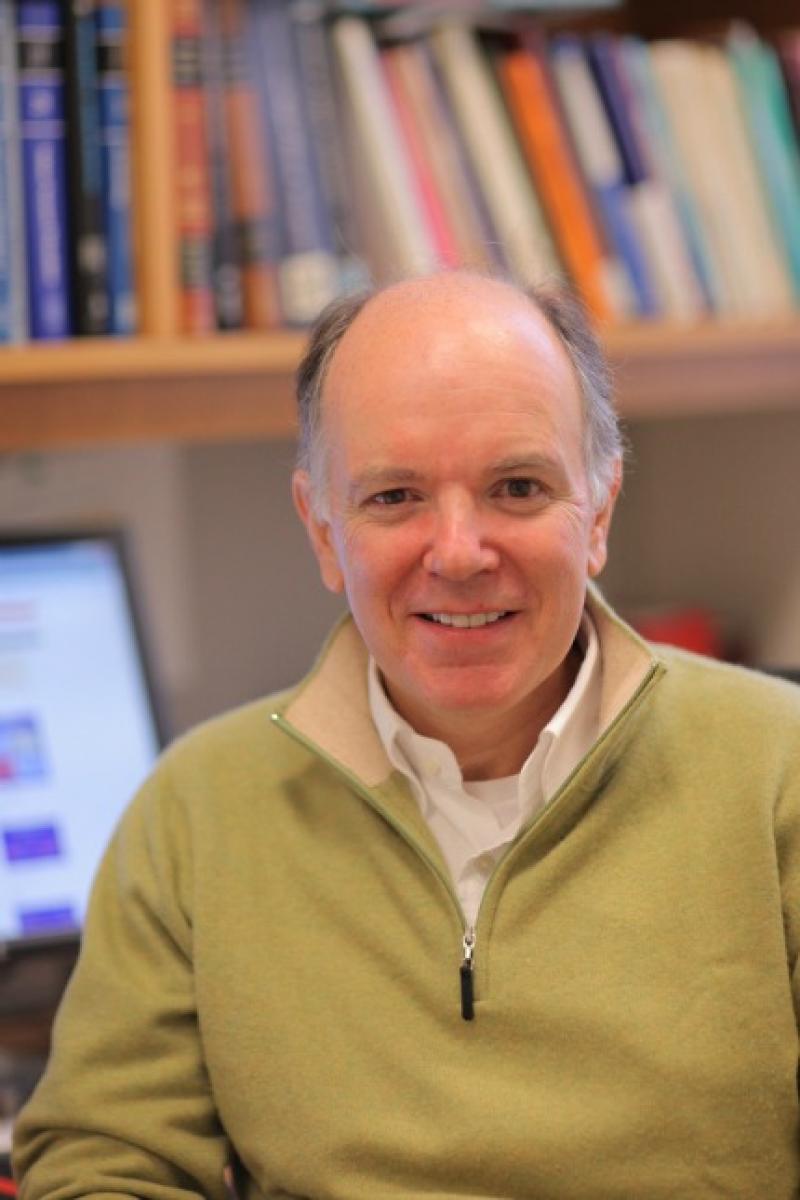 Overview
Dr. Przedborski's academic interests focus on the molecular and cellular biology of neurodegenerative disorders such as Parkinson's disease (PD) and Amyotrophic Lateral Sclerosis (ALS). His ongoing research aims at understanding the contributions of cell-autonomous and non cell-autonomous mechanisms to neurodegeneration using both toxic and genetic experimental models of PD and ALS. In keeping with this goal, how alterations in mitochondrial biology, especially of mitochondrial dynamics and mitophagy, provoke degeneration of specific subpopulations of neurons is one of the main areas of research in the Przedborski laboratory. To what extent and by which mechanisms do non-neuronal cells, like microglia and astrocytes, participate in the demise of neurons in neurodegenerative disorders, such as PD and ALS, represent a second main line of research in this laboratory.
These research efforts are supported by federal grants from both NIH and the DoD as well as by several private agencies such as the Parkinson's Disease Foundation and the Thomas Hartman Foundation. Dr. Przedborski is a Senior Editor for the Journal of Neuroscience and an Associate Editor of Movement Disorders. He also serves as an ad hoc Reviewer for the National Institutes of Health, the Veterans Adminsration, the Department of Defense, the Canadian Medical Research Council, and various medical journals including Science, Nature, Nature Neuroscience, Neuron, the New England Journal of Medicine, and the Proceedings of the National Academy of Science USA.
Email: sp30@cumc.columbia.edu
Academic Appointments
Page and William Black Professor of Neurology (in Pathology and Cell Biology and Neuroscience)
Administrative Titles
Co-Director, Motor Neuron Center
Vice Chair of Research, Department of Neurology
Director, Columbia Translational Neuroscience Initiative (CTNI)
Chief, Division of Movement Disorders
Hospital Affiliations
NewYork-Presbyterian / Columbia University Irving Medical Center
Schedule an Appointment
Connect Patient Portal
For existing patients, login to make an appointment, view documentation or contact your care provider.
Insurance Accepted
Cigna
EPO
Great West (National)
HMO
POS
PPO
Emblem/GHI
Medicare Managed Care
PPO
Emblem/HIP
ConnectiCare
EPO
Essential Plan
HMO
Medicaid Managed Care
Medicare Managed Care
POS
PPO
Select Care (Exchange)
Vytra
Medicare
Railroad
Traditional Medicare
UnitedHealthcare
Empire Plan
HMO
Medicare Managed Care
POS
PPO
*Please contact the provider's office directly to verify that your particular insurance is accepted.
Credentials & Experience
Education & Training
Universite Libre de Bruxelles Faculty of Medicine (Belgium)
Residency: Universite Libre de Bruxelles (Belgium)
Fellowship: NewYork-Presbyterian Hospital/Columbia University Medical Center
Research
My laboratory has concentrated its research efforts on experimental models of Parkinson's disease (PD) and of amyotrophic lateral sclerosis (ALS). Through the use of both in vitro and in vivo models of these two adult-onset neurodegenerative disorders, we have studied the contribution of death of specific subsets of neurons a series of both cell autonomous and non-cell autonomous mechanisms.
Among the cell autonomous mechanisms of neurodegeneration, we have paid particular attention to the role of mitochondria, fist by studying the link of defect in bioenergetic and neuronal death; then by linking respiratory defect to program cell death, and more recently by studying defect in mitophagy and neuronal death.  Our recent results have shown that PINK1 and Parkin interact to modulate the turnover of defective mitochondria and that in presence of PINK1 and/or Parkin mutations, mitochondrial quality control mechanisms are defective. Currently, we thus try to understand PINK1 normal function and how it communicates with Parkin. We also study the actual molecular basis of mitophagy and how any defect in such mechanism of quality control could cause neurodegeneration.
Among the non-cell autonomous mechanisms of neurodegeneration, we have first studied the actual role and molecular determinants of neuroinflammation, i.e. how activated microglia and reactive astrocytes could mediate neuronal death. More recently, we have found that astrocytes derived from both experimental models of disease such as ALS and from patients can provoke the death of specific neurons. Currently, we are thus searching at identifying the nature of the toxic factor(s) mediating this neurodegeneration phenomenon; at defining the molecular cascade of death engaged within specific of neurons upon exposure to toxic astrocytes, and at miniaturizing this in vitro model of ALS to use it for high-throughput screening of small molecules library.   
Research Interests
Amyotrophic Lateral Sclerosis
Apoptosis
Astrocytes
Bioinformatics
High-throughput Screening
Microglia
Mitochondria Biology and Disease
Mitophagy
Molecular and Cellular Biology of Neurodegeneration
Motor Neuron Biology and Diseases
Motor Systems
Necroptosis
Neural Degeneration and Repair
Neurobiology of Disease
Neurodegeneration
Neuroinflammation
Parkinson's Disease
Stem Cell Biology
Selected Publications
Since 2010 only:
Fedorowicz MA, de Vries-Schneider RL, Rüb C, Becker D, Huang Y, Zhou C, Alessi Wolken DM, Voos W, Liu Y, Przedborski S. Cytosolic cleaved PINK1 represses Parkin translocation to mitochondria and mitophagy. EMBO Rep. 2013 Dec 19. [Epub ahead of print] PubMed PMID: 24357652.
Roybon L, Lamas NJ, Garcia-Diaz A, Yang EJ, Sattler R, Jackson-Lewis V, Kim YA, Kachel CA, Rothstein JD, Przedborski S, Wichterle H, Henderson CE. Human stem cell-derived spinal cord astrocytes with defined mature or reactive phenotypes. Cell Rep. 2013 Sep 12;4(5):1035-48. doi: 10.1016/j.celrep.2013.06.021. Epub 2013 Aug 29. PubMed PMID: 23994478.
Di Paolo G, Przedborski S. When Schwann cells conspire with mitochondria, neighboring axons are under attack by glia-derived neurotoxic lipids. Neuron. 2013 Mar 6;77(5):801-3. doi: 10.1016/j.neuron.2013.02.016. PubMed PMID: 23473310.
Teng YD, Benn SC, Kalkanis SN, Shefner JM, Onario RC, Cheng B, Lachyankar MB, Marconi M, Li J, Yu D, Han I, Maragakis NJ, Lládo J, Erkmen K, Redmond DE Jr, Sidman RL, Przedborski S, Rothstein JD, Brown RH Jr, Snyder EY. Multimodal actions of neural stem cells in a mouse model of ALS: a meta-analysis. Sci Transl Med. 2012 Dec 19;4(165):165ra164. doi: 10.1126/scitranslmed.3004579. PubMed PMID: 23253611.
Gonzalez-Reyes LE, Verbitsky M, Blesa J, Jackson-Lewis V, Paredes D, Tillack K, Phani S, Kramer ER, Przedborski S, Kottmann AH. Sonic hedgehog maintains cellular and neurochemical homeostasis in the adult nigrostriatal circuit. Neuron. 2012 Jul 26;75(2):306-19. doi: 10.1016/j.neuron.2012.05.018. PubMed PMID: 22841315; PubMed Central PMCID: PMC3408586.
Cooper O, Seo H, Andrabi S, Guardia-Laguarta C, Graziotto J, Sundberg M, McLean JR, Carrillo-Reid L, Xie Z, Osborn T, Hargus G, Deleidi M, Lawson T, Bogetofte H, Perez-Torres E, Clark L, Moskowitz C, Mazzulli J, Chen L, Volpicelli-Daley L, Romero N, Jiang H, Uitti RJ, Huang Z, Opala G, Scarffe LA, Dawson VL, Klein C, Feng J, Ross OA, Trojanowski JQ, Lee VM, Marder K, Surmeier DJ, Wszolek ZK, Przedborski S, Krainc D, Dawson TM, Isacson O. Pharmacological rescue of mitochondrial deficits in iPSC-derived neural cells from patients with familial Parkinson's disease. Sci Transl Med. 2012 Jul 4;4(141):141ra90. doi: 10.1126/scitranslmed.3003985. PubMed PMID: 22764206; PubMed Central PMCID: PMC3462009.
Kariya S, Re DB, Jacquier A, Nelson K, Przedborski S, Monani UR. Mutant superoxide dismutase 1 (SOD1), a cause of amyotrophic lateral sclerosis, disrupts the recruitment of SMN, the spinal muscular atrophy protein to nuclear Cajal bodies. Hum Mol Genet. 2012 Aug 1;21(15):3421-34. doi: 10.1093/hmg/dds174. Epub 2012 May 11. PubMed PMID: 22581780; PubMed Central PMCID: PMC3392116.
Becker D, Richter J, Tocilescu MA, Przedborski S, Voos W. Pink1 kinase and its membrane potential (Deltaψ)-dependent cleavage product both localize to outer mitochondrial membrane by unique targeting mode. J Biol Chem. 2012 Jun 29;287(27):22969-87. doi: 10.1074/jbc.M112.365700. Epub 2012 Apr 30. PubMed PMID: 22547060; PubMed Central PMCID: PMC3391148.
Magrané J, Sahawneh MA, Przedborski S, Estévez ÁG, Manfredi G. Mitochondrial dynamics and bioenergetic dysfunction is associated with synaptic alterations in mutant SOD1 motor neurons. J Neurosci. 2012 Jan 4;32(1):229-42. doi: 10.1523/JNEUROSCI.1233-11.2012. PubMed PMID: 22219285; PubMed Central PMCID: PMC3566782.
Gilkerson RW, De Vries RL, Lebot P, Wikstrom JD, Torgyekes E, Shirihai OS, Przedborski S, Schon EA. Mitochondrial autophagy in cells with mtDNA mutations results from synergistic loss of transmembrane potential and mTORC1 inhibition. Hum Mol Genet. 2012 Mar 1;21(5):978-90. doi: 10.1093/hmg/ddr529. Epub 2011 Nov 11. PubMed PMID: 22080835; PubMed Central PMCID: PMC3277306.
Schon EA, Przedborski S. Mitochondria: the next (neurode)generation. Neuron. 2011 Jun 23;70(6):1033-53. doi: 10.1016/j.neuron.2011.06.003. Review. PubMed PMID: 21689593; PubMed Central PMCID: PMC3407575.
Perier C, Bové J, Dehay B, Jackson-Lewis V, Rabinovitch PS, Przedborski S, Vila M. Apoptosis-inducing factor deficiency sensitizes dopaminergic neurons to parkinsonian neurotoxins. Ann Neurol. 2010 Aug;68(2):184-92. doi: 10.1002/ana.22034. PubMed PMID: 20695011.
Wichterle H, Przedborski S. What can pluripotent stem cells teach us about neurodegenerative diseases? Nat Neurosci. 2010 Jul;13(7):800-4. doi: 10.1038/nn.2577. PubMed PMID: 20581816; PubMed Central PMCID: PMC3063524.
Malagelada C, Jin ZH, Jackson-Lewis V, Przedborski S, Greene LA. Rapamycin protects against neuron death in in vitro and in vivo models of Parkinson's disease. J Neurosci. 2010 Jan 20;30(3):1166-75. doi: 10.1523/JNEUROSCI.3944-09.2010. PubMed PMID: 20089925; PubMed Central PMCID: PMC2880868.
Li Y, Liu W, Oo TF, Wang L, Tang Y, Jackson-Lewis V, Zhou C, Geghman K, Bogdanov M, Przedborski S, Beal MF, Burke RE, Li C. Mutant LRRK2(R1441G) BAC transgenic mice recapitulate cardinal features of Parkinson's disease. Nat Neurosci. 2009 Jul;12(7):826-8. doi: 10.1038/nn.2349. Epub 2009 Jun 7. PubMed PMID: 19503083; PubMed Central PMCID: PMC2845930.