Autism Awareness Community Outreach Fair
2021 NewYork-Presbyterian Autism Awareness Community Outreach Virtual Fair
Hosted by: NewYork-Presbyterian Autism Task Force in collaboration with Weill Cornell Medicine Psychiatry and Columbia University Neurology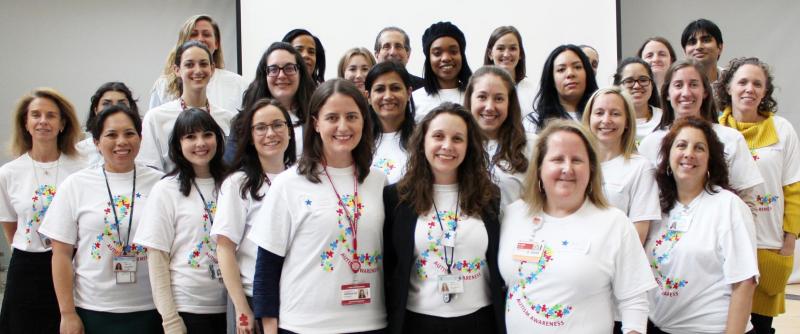 Transition from Early Childhood through Young Adulthood
The NewYork-Presbyterian Autism Task Force, founded and co-chaired by Dr. Jennifer Bain, with Drs. Wendy Silver, Jennifer Cross (Weill Cornell), and Tara Maloney (CADB), held their 3rd Annual Autism Awareness Virtual Community Outreach Fair. 
Emcee and Presenters:
Emcee: Lacey Lisner
Lacey Lisner, MSN, MBA, RN, NE-BC, is the Magnet Program Director at NewYork-Presbyterian Morgan Stanley Children's Hospital. She holds a Master of Science in Nursing and a Master of Business Administration degrees from Benedictine University. She is a board-certified nurse executive, and member of the NYP Autism Task Force. She has two daughters and one son.  Her son was diagnosed with autism spectrum disorder at the age of 19 months, and he is 14 years old today. In her free time, she enjoys taking acting and on-air hosting classes. She has been called to be on several television shows as the nurse expert and background actor. She was given internet movie database (IMDb) credit for her role as "Nurse #1" on The Perfect Murder.
Transitions to Preschool and Kindergarten, presented by Marilyn Rubinstein
Marilyn Rubinstein has forty years of experience in early childhood, special education, disability, and family support services. She began her career as a teacher in programs for young children with typical and atypical development before moving to administrative roles. She was the Director of the Early Childhood Direction Center (ECDC) in Manhattan at NewYork-Presbyterian. Under her guidance, the ECDC staff provided direct one-to-one information, referral, support and training for families and professionals about services for young children with developmental delays and disabilities. Marilyn is currently working with the New York City Department of Health and Mental Hygiene to develop an online training for early intervention service coordinators for the Bureau of Early Intervention.
Developmental transitions in young children with Autism spectrum disorders, presented by Dr. Poole-DiSalvo
Dr. Elizabeth Poole-Di Salvo is an Assistant Professor of Clinical Pediatrics at Weill Cornell Medicine.  She completed her pediatric residency training at NYU Medical Center, and her fellowship in developmental-behavioral pediatrics at The Rose F. Kennedy Children's Evaluation and Rehabilitation Center at the Albert Einstein College of Medicine and the Children's Hospital at Montefiore. She has expertise in the evaluation and treatment of children with Autism Spectrum Disorder, ADHD, Developmental delays and Learning and Intellectual Disabilities.   
Transition to Adolescence, presented by Dr. Renae Beaumont
Dr. Renae Beaumont is an award-winning child and adolescent psychologist who is the founder of the video-gaming based therapy program Secret Agent Society (SAS). SAS is an evidence-based intervention framework that has been shown to improve the emotion regulation skills, social skills and behavior of eight- to twelve-year-old children on the Autism Spectrum. To date, the lives of over 20 000 children and families in nine countries worldwide have been touched by SAS. Originally from Australia, Dr. Beaumont moved to the US five years ago, where she is a faculty member and clinician at Weill Cornell Medicine, New York Presbyterian Hospital. Dr. Beaumont is passionate about using technologically innovative approaches to improve the mental health and wellbeing of youth and families.
Autism Actions: Using School Transitions as an Opportunity for Inclusion, presented by Dr. Peter Faustino
Dr. Peter Faustino is a school psychologist at Scarsdale High School in Westchester County, NY. He is also the Northeast Delegate to the National Association of School Psychologists (NASP) and a past President of the NY Association of School Psychologists (NYASP). Peter has long served as an advisor to the Family Services division of Autism Speaks, Autism Interest Group Coordinator for NASP, and presents frequently to parent/teacher associations. Dr. Faustino co-founded the Student Clubs for Autism Speaks, which helps further the mission of Autism Speaks through education, awareness, friendship and fundraising.
Motivation Matters, presented by Dr. Alice Medalia
Presenter Biography: Dr. Medalia is a Professor in the Department of Psychiatry at Columbia University Irving Medical Center and Clinical Director of Cognitive Health Services for the New York State Office of Mental Health.  She is also a member of the Columbia University Academy of Clinical Excellence, and the founding director of the Lieber Recovery and Rehabilitation Clinic, a comprehensive psychiatric rehabilitation program for individuals with persistent mental illness. Dr. Medalia has been instrumental in raising awareness about the need to address cognition as a central aspect of health related to functional outcome.  She brought the concept of Cognitive Health to the field of Psychiatry and identified the need for the treatment of cognition to embrace an understanding of how motivation and learning interact. She developed the widely used Neuropsychological & Educational Approach to Remediation (NEAR) model of cognitive remediation, which has been disseminated worldwide. She is a NIMH funded researcher, prolific author and the recipient of numerous awards for outstanding leadership in psychiatric rehabilitation.
Mr. John Bryson
John Bryson, Senior Manager, Strategic Employment Initiatives at NEXT for AUTISM, creates partnerships with businesses, disability service organizations, post-secondary institutions, and school districts to address the vocational needs and employment qualifications of candidates with autism. John specializes in school-to-work transition services and implements innovative strategies to develop career pathways for workers with disabilities. 
Before joining NEXT for AUTISM, John was an educator and public sector leader for ten years. He supported students and adults with disabilities and other barriers to employment.  His use of direct instruction and cooperative learning strategies led to consistently successful outcomes. He leverages his education and public sector experience to help companies attract, support, and retain talent with autism and other disabilities. 
John is a former Board Member of the Ohio Association of People Supporting EmploymentFirst (APSE). He holds a Bachelor of Arts, Communications degree, and a Master of Science, Education degree from The University of Akron and is a Certified Employment Support Professional (CESP).
Transitioning to High School, presented by Mr. David Kearon
Presenter Biography: Dave Kearon is Director of Adult Services at Autism Speaks. His work focuses on national initiatives promoting solutions for the needs of individuals with autism and their families across the spectrum and throughout the lifespan. Dave works to increase the quality and quantity of opportunities and resources available to youth and adults with autism related to the transition to adulthood, employment, housing and residential supports, postsecondary education and community integration.
Dave's work in recent years has included the development of an autism-led corporate employment consultancy, an online job search tool for autistic job seekers, and an autism small business accelerator. Current initiatives include the development of digital, interactive developmental pathways for the transition to adulthood, as well as a larger employment collaboration with other nonprofits for people with intellectual and developmental disabilities called Delivering Jobs.
---
2020 Recording Links:
"Optimizing Your Home for Virtual Learning & Keeping Your Child Engaged"
Panel discussion and presentation from different professional perspectives.
---
"Current Research Updates in Autism Spectrum Disorders"
---
"Addressing Challenging Behaviors" 
---
"Supports for Siblings and Other Family Members"
---
Ask the Experts Q&A
Psychiatrist - Jeremy Veenstra-VanderWeele, MD
Stephen Kanne, PhD, ABPP (CN)
Diet & Feeding, Registered Dietician - Danielle Starkman, MS, RD, CSN, CDP
Board Certified Behavior Analyst - Dan Sullivan – MS, BCBA, LBA