Graduates Tell Their Stories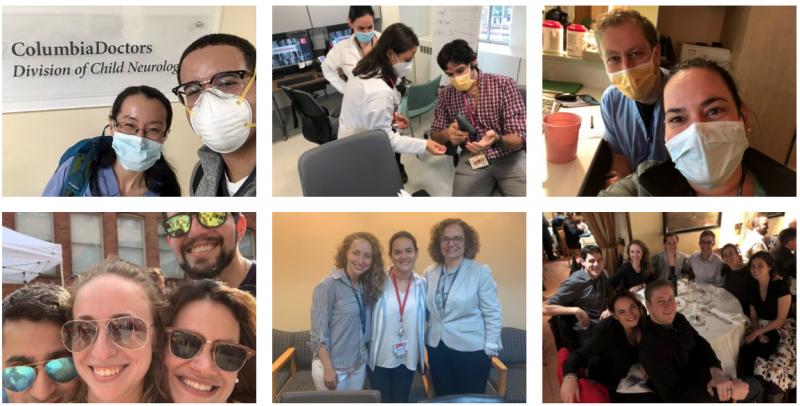 I am incredibly grateful for the time I spent at Columbia training to be a child neurologist. The work I did was challenging and stimulating. I had wonderful support from the faculty, who let me independently manage patients but were always there when I needed advice. They also were my biggest champions when I decided to pursue epilepsy fellowship. I think any resident who is lucky to train here has all the tools at their disposal to become a confident, competent and empathetic physician.
Sam Coffino, MD, Residency Class of 2017, Kaiser Permanente, Oakland CA
---

I was part of the Columbia Neurology class of 2015. I am currently an attending neurologist at Children's Hospital of Philadelphia. I picked Columbia due to location and the people I met during the interview trail. I loved the idea of being in a large, cosmopolitan area that served many different types of communities, including a large Spanish speaking population from Dominican Republic and other parts of Latin America.
I was not wrong when I had a hunch that I was going to love working with the people at Columbia. Both Adult Neurology and Pediatric Neurology residents became my family away from home and to this day, I keep in touch with residents and attendings from the program.

Thanks to my training, I have been able to feel comfortable starting my new career. Experiences in the adult Neuro ICU, reviewing EEGs early in my training, and access to specialists within Neurology gave me a unique perspective and approach to my own career as an attending.
Pam Pojomovsky, MD, Residency Class of 2015, Assistant Professor, Child Neurology, Children's Hospital of Philadelphia
---

Why I chose Columbia: I chose Columbia because I wanted to be exposed to a wide variety of patient conditions so that after I could feel comfortable treating the rarest and/or most serious of illnesses.

Overall impression of my training at Columbia: We have the opportunity to learn from the best in the field and see cutting edge treatments often not being performed elsewhere.

What I loved about being at Columbia/ in NYC: I had the opportunity to work with some of the finest minds in all of Neurology. The typical Columbia physician exhibits a relentless effort to provide the best patient care possible, using an impeccable foundation of knowledge as well as kindness and empathy. So many of my colleagues were inspirations to me, including Co-residents and Attendings as well as Medical Students and Nurse Practitioners. It was an honor to be part of such a wonderful team of Medical professionals.
Alexis Dallara-Marsh, MD, Residency Class of 2014, Epilepsy Fellowship at Columbia University Medical Center, New York, NY, Class of 2015, Attending Neurologist in Child Neurology and Epilepsy Private Practice at the Neurology Group of Bergen County, Ridgewood, New Jersey
---

Why I chose Columbia: I chose Columbia primarily for its long-standing tradition of excellence in training neurologists. I wanted a program that had stood the test of time, allowed broad exposure to different types of patients and pathology, as well as access to leaders in the field. Plus, the location can't be beat.

Overall impression of my training at Columbia: My time at Columbia was an immersive experience in neurology. I was able to learn every minute that I was there-whether it was from doing my own history and exam, going to conference, leading rounds or sitting with my co-residents, by the end of training I felt I had truly been exposed to all aspects of neurology.

What I loved about being at Columbia/ in NYC: Everyone at Columbia was passionate about neurology and brought that excitement to teaching me. I now have lifelong connections with my attendings and co-residents. NYC is a great place to do residency because in the precious time you are away from the hospital you have access to anything you want within minutes-wonderful food, culture and activities.

How the training program has helped my career: I feel that I learned not only about the basics of neurology, but how to practice as an attending physician. At the end of my training I felt prepared to see patients on my own and I learned how and whom to ask for help when I wasn't sure what to do. And, I now have lifelong connections with my attendings and co-residents.
Shannon Babineau, MD, Residency Class of 2011, Child Neurologist, Goryeb Children's Hospital, Morristown, NJ