Child Neurology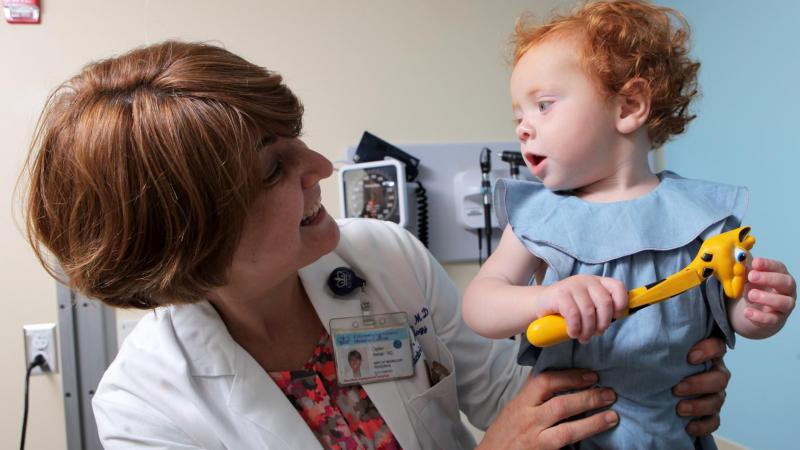 ColumbiaDoctors Child Neurology maintains the highest standard of neurologic practice for pediatric patients and their families by combining the latest research and technological advances with individualized, compassionate care.
Pediatric neurologists at Columbia have a long history of caring for children with inborn errors of metabolism that involve the nervous system. Bernard Sachs, the founder of the child neurology division, described Tay-Sachs disease, and current faculty are in the forefront of knowledge concerning mitochondrial diseases, glucose transporter deficiency, lysosomal storage diseases, neuromuscular disorders, disorders of nervous system development and congenital disorders of glycosylation.
Our Specialists
ColumbiaDoctors Child Neurology is comprised of pediatric specialists in the areas of:
Pediatric Epilepsy (Child & Adolescent)
Pediatric Headache (Child & Adolescent)
Pediatric Movement Disorders
Pediatric Multiple Sclerosis/Autoimmune Disorders
Pediatric Neurocritical Care
Pediatric Neuromuscular Disorders
Pediatric Neuropsychology
Pediatric Sleep Disorders
Pediatric Stroke
Autism, Learning Disabilities, and Behavioral Neurology
Fetal Neurology
Tuberous Sclerosis Complex
Muscular Dystrophy Program
The Pediatric Muscular Dystrophy Association Program offers special expertise in neuromuscular disorders, and provides access to the expertise of physiatrists, orthopedists, pulmonologists, psychologists and therapists who work collaboratively with the coordinating neurologist. A specialized clinic has been established for the care of children with spinal muscular atrophy, with the generous support of the SMA Foundation.
Pediatric Epilepsy Center
The Pediatric Epilepsy Center at NewYork-Presbyterian Morgan Stanley Children's Hospital utilizes sophisticated diagnostic techniques, including video-encephalography (EEG) monitoring, biochemical and imaging modalities, to investigate children with seizure disorders. Some children benefit from surgery, which is guided by sophisticated brain mapping techniques. In all cases, therapy is tailored to the individual child, and options may include the full range of anti-epileptic medications, the ketogenic diet and vagus nerve stimulation. The Center is a major referral program for area neurologists for the treatment of intractable seizures.
An experienced multidisciplinary team, including neurologists, neurosurgeons, neuroradiologists and neuro-oncologists, manages children with brain and spinal cord tumors. Many children have the opportunity to participate in trials of new therapies.
Our neurologists also investigate and manage cerebral palsy, developmental delay, autistic spectrum disorders, movement disorders, and chronic headache. They participate in the treatment of children with head and spinal trauma in collaboration with our pediatric neurosurgeons.
Conditions We Treat
Acute disseminated encephalomyelitis
Asperger's syndrome
Ataxia telangiectasia
Attention deficit hyperactivity disorder
Autism
Autistic spectrum disorder
Cerebral palsy and spasticity
Chiari Malformation
Neurodevelopmental disorders
Neuroimmunological Disorders
Pediatric Tourrette's syndrome
Pediatric arteriovenous malformations
Pediatric ataxia
Pediatric behavioral neurology
Pediatric brain tumor
Pediatric epilepsy
Pediatric headache
Pediatric intractable epilepsy
Pediatric language problems
Pediatric learning disabilities
Pediatric migraine
Pediatric movement disorders
Pediatric multiple sclerosis
Pediatric neuro-metabolic disorder
Pediatric neurofibromatosis
Pediatric neurology
Pediatric neuromuscular disease
Pediatric neuropsychology
Pediatric seizure disorder
Pediatric speech disorders
Pediatric stroke
Pediatric tic disorders
Pervasive development disorder
Spina bifida
Spinal muscular atrophy
Tuberous Sclerosis