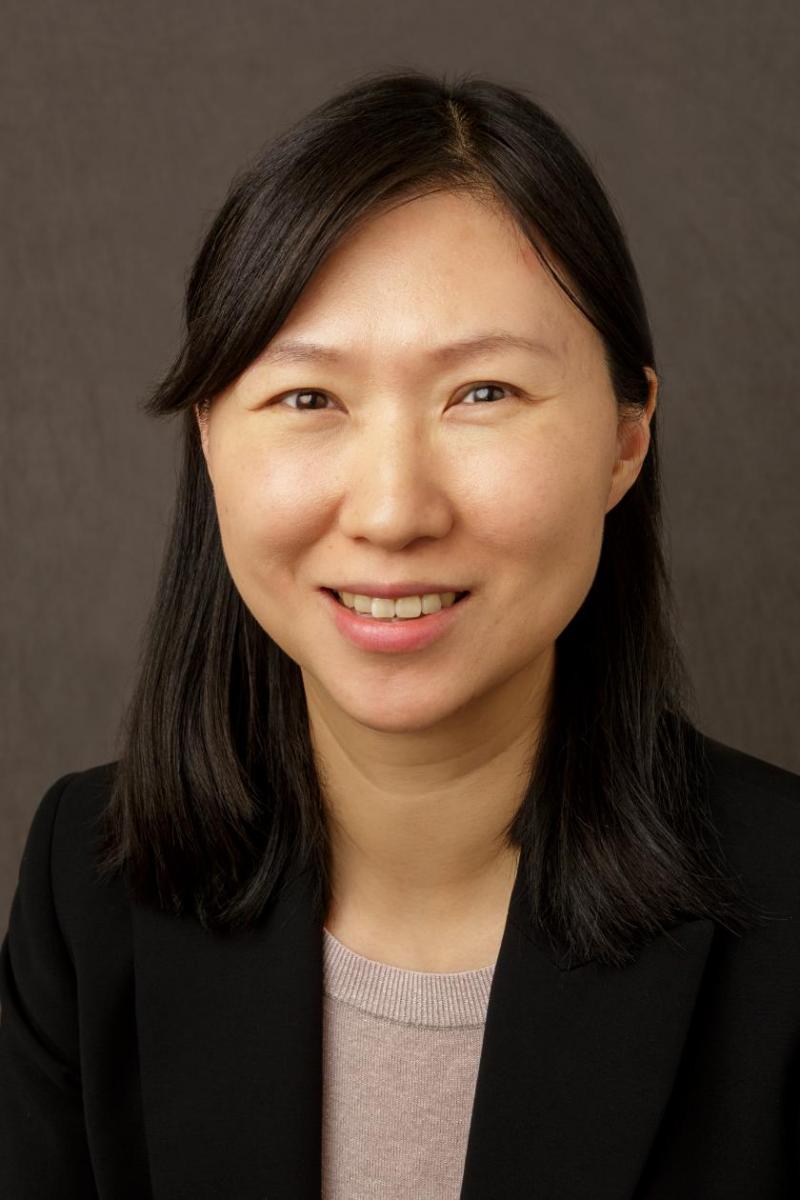 Overview
Dr. Gu received her training in epidemiology at Fudan University and New York University, and her current research aims to understand the role of diet, physical activities, sleep, and other lifestyle factors in brain aging, cognitive aging, and neurodegenerative diseases. Dr. Gu's long-term goal is to elucidate the mechanisms for the lifestyle-brain relationship by using multiple biological measures including neuroimaging biomarkers, circulating biomarkers, genetic profiles, etc.
Academic Appointments
Assistant Professor of Neurological Sciences (in Neurology, Epidemiology and the Taub Institute)
Credentials & Experience
Education & Training
MD, Maternal and Child Health, Shanghai Medical University (China)
MS, Epidemiology and Biostatistics, Fudan University (China)
PhD, Epidemiology, New York University, New York, NY
Research
Research Interests
Dietary factors in brain aging.
Lifestyle factors in relation to cognitive and functional decline among elderly.
Nutritional epidemiology of cognitive decline and Alzheimer's disease among elderly.
Selected Publications
Azar M, Zhu C, DeFeis B, Gu Y, Ornstein K, Lawless S, et al. Increased Reporting Accuracy of Alzheimer Disease Symptoms in Caribbean Hispanic Informants. Alzheimer Dis Assoc Disord. 2017. In press.
Gu Y, Vorburger R, Scarmeas N, Luchsinger JA, Manly JJ, Schupf N, et al. Circulating inflammatory biomarkers in relation to brain structural measurements in a non-demented elderly population. Brain, behavior, and immunity. 2017;65:150-60.
Gu Y, Vorburger RS, Gazes Y, Habeck CG, Stern Y, Luchsinger JA, et al. White matter integrity as a mediator in the relationship between dietary nutrients and cognition in the elderly. Annals of neurology. 2016;79(6):1014-25.
Heymann D, Stern Y, Cosentino S, Tatarina-Nulman O, Dorrejo JN, Gu Y. The Association Between Alcohol Use and the Progression of Alzheimer's Disease. Current Alzheimer research. 2016;13(12):1356-62.
Rostanski SK, Zimmerman ME, Schupf N, Manly JJ, Westwood AJ, Brickman AM, Gu Y. Sleep Disordered Breathing and White Matter Hyperintensities in Community-Dwelling Elders. Sleep. 2016;39(4):785-91.
Stern Y, Gu Y, Cosentino S, Azar M, Lawless S, Tatarina O. The Predictors study: Development and baseline characteristics of the Predictors 3 cohort. Alzheimer's & dementia : the journal of the Alzheimer's Association. 2017;13(1):20-7.
Tsapanou A, Gu Y, O'Shea D, Manly J, Schupf N, Scarmeas N, et al. Self-Reported Sleep Disordered Breathing as Risk Factor for Mortality in the Elderly. Journal of stroke and cerebrovascular diseases : the official journal of National Stroke Association. 2016;25(6):1524-31.
Zhu CW, Cosentino S, Ornstein KA, Gu Y, Andrews H, Stern Y. Interactive Effects of Dementia Severity and Comorbidities on Medicare Expenditures. Journal of Alzheimer's disease : JAD. 2017;57(1):305-15.
Gu Y, Brickman AM, Stern Y, Habeck CG, Razlighi QR, Luchsinger JA, Manly JJ, Schupf N, Mayeux R, Scarmeas N. Mediterranean diet and brain structure in a multiethnic elderly cohort. Neurology. 2015;85:1744-1751
Tsapanou A, Scarmeas N, Gu Y, Manly J, Schupf N, Stern Y, Barral S. Examining the association between Apolipoprotein E (APOE) and self-reported sleep disturbances in non-demented older adults. Neurosci Lett. 2015 Aug 24;606:72-76. PubMed PMID: 26314507.
Zhu CW, Cosentino S, Ornstein K, Gu Y, Scarmeas N, Andrews H, Stern Y. Medicare Utilization and Expenditures Around Incident Dementia in a Multiethnic Cohort. J Gerontol A Biol Sci Med Sci. 2015 Aug 26. pii: glv124. PubMed PMID: 26311543.
Tsapanou A, Gu Y, Manly J, Schupf N, Tang MX, Zimmerman M, Scarmeas N, Stern Y. Daytime Sleepiness and Sleep Inadequacy as Risk Factors for Dementia. Dement Geriatr Cogn Dis Extra. 2015 Jul 10;5(2):286-95. PMCID:PMC4521063.
Gu Y, Razlighi QR, Zahodne LB, Janicki SC, Ichise M, Manly JJ, Devanand DP, Brickman AM, Schupf N, Mayeux R, Stern Y. The presence of brain amyloid is preceded by accelerated cognitive decline in non-demented older adults: results from a multi-ethnic population. PLoS ONE, 2015 Jul 29;10(7):e0123743. doi: 10.1371/journal.pone.0123743. eCollection 2015. PMCID: PMC4519341
Bangen KJ, Gu Y, Gross AL, Schneider BC, Skinner JC, Benitez A, Sachs BC, Shih R, Sisco S, Schupf N, Mayeux R, Manly JJ, Luchsinger JA. Relation of type 2 diabetes with cognitive change in a multiethnic elderly cohort. Accepted in Jan. 2015. Journal of the American Geriatrics Society (JAGS). 2015 Jun;63(6):1075-83. PMCID: PMC4477832
Tsapanou A, Gu Y, O'Shea D, Eich T, Tang MX, Schupf N, Manly J, Zimmerman M, Scarmeas N, Stern Y. Daytime somnolence as an early sign of cognitive decline in a community-based study of older people. Int J Geriatr Psychiatry. 2015 Jun 15.
Gu Y, Honig LS, Schupf N, Lee JH, Luchsinger JA, Stern Y, Scarmeas N. Mediterranean diet and leukocyte telomere length in a multi-ethnic elderly population. Age (Dordr). 2015 Apr;37(2):24.
Brickman AM, Guzman VA, Gonzalez-Castellon M, Razlighi Q, Gu Y, Narkhede A, Janicki S, Ichise M, Stern Y, Manly JJ, Schupf N, Marshall RS. Cerebral autoregulation, beta amyloid, and white matter hyperintensities are interrelated. Neurosci Lett. 2015 Apr 10;592:54-8.
Gardener H, Rundek T, Wright CB, Gu Y, Scarmeas N, Homma S, Russo C, Elkind MS, Sacco RL, Di Tullio MR. A Mediterranean-style diet and left ventricular mass (from the Northern Manhattan Study). Am J Cardiol. 2015 Feb 15;115(4):510-4.
Meier IB, Gu Y, Guzaman VA, Wiegman AF, Schupf N, Manly JJ, Luchsinger JA, Viswanathan A, Martinez-Ramirez S, Greenberg SM, Mayeux R, Brickman AM. Lobar microbleeds are associated with a decline in executive functioning in older adults. Cerebrovasc Dis. 2014;38(5):377-83.
Khatri M, Moon YP, Scarmeas N, Gu Y, Gardener H, Cheung K, Wright CB, Sacco RL, Nickolas TL, Elkind MS. The association between a Mediterranean-style diet and kidney function in the Northern Manhattan Study cohort. Clin J Am Soc Nephrol. 2014 Nov 7;9(11):1868-75.
Zhu CW, Cosentino S, Ornstein K, Gu Y, Andrews H, Stern Y. Use and cost of hospitalization in dementia: longitudinal results from a community-based study. Int J Geriatr Psychiatry. 2014 Oct 29.
Gardener H, Wright CB, Cabral D, Scarmeas N, Gu Y, Cheung K, Elkind MS, Sacco RL, Rundek T. Mediterranean diet and carotid atherosclerosis in the Northern Manhattan Study. Atherosclerosis. 2014 Jun;234(2):303-10.
Gu Y, Scarmeas N, Cosentino S, Brandt J, Albert M, Blacker D, Dubois B, Stern Y. Change in body mass index before and after Alzheimer's disease onset. Curr Alzheimer Res. 2014 May;11(4):349-56.
Gu Y, Scarmeas N. Diet and Neuroimaging Markers of Cerebrovascular Disease. Curr Nutr Rep. 2013 Jun 1;2(2):81-89.
Gu Y, Scarmeas N, Short EE, Luchsinger JA, DeCarli C, Stern Y, Manly JJ, Schupf N, Mayeux R, Brickman AM. Alcohol intake and brain structure in a multiethnic elderly cohort. Clinical Nutrition. 2014, 33(4): 662-667.
Marder K, Gu Y, Eberly S, Tanner CM, Scarmeas N, Oakes D, Shoulson I, and the Huntington Study Group PHAROS Investigators. Do Mediterranean Diet and Caloric Intake Affect Time to Phenoconversion in Huntington's Disease? JAMA Neurology. 2013 Nov;70(11):1382-8.
Gardener S, Gu Y, Rainey-Smith SR, et al. Adherence to a Mediterranean diet and Alzheimer's disease risk in an Australian population. Transl Psychiatry. 2012 Oct 2;2:e164.
Gu Y, Shupf N, Cosentino SA, Luchsinger JA, Scarmeas N. Nutrients intake and plasma & β-amyloid. Neurology. 2012;78:1832-1840.
Alcalay RN, Gu Y, Mejia-Santana H, Cote L, Marder KS, Scarmeas N. The Association between Mediterranean Diet Adherence and Parkinson's Disease. Movement Disorders Journal. 2012. May;27(6):771-4.
Gardener H, Scarmeas N, Gu Y, et al. Mediterranean-Style Diet and White Matter Hyperintensity Volume: the Northern Manhattan Study. Archives of Neurology.2012 Feb;69(2):251-6.
Gardener H, Wright CB, Gu Y, Demmer RT, Boden-Albala B, Elkind MSV, Sacco RL, Scarmeas N. The Mediterranean Diet and the Risk of Ischemic Stroke, Myocardial Infarction, and Vascular Death: The Northern Manhattan Study (NOMAS). American Journal of Clinical Nutrition. 2011; Dec;94(6):1458-64.
Gu Y, Scarmeas N. Dietary patterns in Alzheimer's disease and cognitive aging. Current Alzheimer Research. 2011 Aug 1;8(5):510-9.
Clendenen TV, Koenig KL, Arslan AA, Lukanova A, Berrino F, Gu Y, Hallmans G, Idahl A, Krogh V, Lokshin AE, Lundin E, Muti P, Marrangoni A, Nolen BM, Ohlson N, Shore RE, Sieri S, Zeleniuch-Jacquotte A. Factors associated with inflammation markers, a cross-sectional analysis. Cytokine 2011;56(3):769-778.
Gu Y, Nieves JW, Luchsinger JA, Scarmeas N. Dietary inflammation factor rating system and risk of Alzheimer disease in elders. Alzheimer Disease & Associated Disorders. 2011 Apr-Jun;25(2):149-54.
Scarmeas N, Luchsinger JA, Stern Y, Gu Y, DeCarli C, Mayeux R, Brickman AM. Mediterranean Diet and magnetic resonance imaging -assessed cerebrovascular disease. Annals of Neurology, 2010; 69(2):257-268.
Gu Y, Luchsinger JA, Stern Y, Scarmeas N. Potential Role of Iron in a Mediterranean-style Diet-Reply. Archives of Neurology, 2010;67(10):1287-1288.
Gu Y, Luchsinger J, Stern Y, Scarmeas N. (2010) Mediterranean Diet, Inflammatory and Metabolic Biomarkers and Risk of Alzheimer Disease. Journal of Alzheimer's Disease, 2010; 22(2):483-92.
Scarmeas N, Luchsinger JA, Brickman, AM, Cosentino S, Schupf N, Ming XT, Gu Y, Stern Y. Physical Activity and Alzheimer's disease Course, American Journal of Geriatric Psychiatry, 2010 May;19(5):471-81.
Gu Y, Nieves JW, Stern Y, Luchsinger JA, Scarmeas N. Food Combination and Alzheimer's disease (AD): a protective diet. Archives of Neurology, 2010;67(6):699-706. Epub 2010 Apr 12.
Gu Y, Shore RE, Arslan AA, Koenig KL, Liu M, Ibrahim S, Lokshin AE, Zeleniuch-Jacquotte A. Circulating Cytokines and Risk of B-cell non-Hodgkin Lymphoma: A Nested Case-control Study. Cancer Causes and Control, 2010, Aug;21(8):1323-33. Epub 2010 Apr 7.
Linkov F, Gu Y, Arslan AA, Liu M, Shore RE, Velikokhatnaya L, Koenig KL, Toniolo P, Marrangoni A, Yurkovetsky Z, Zeleniuch-Jacquotte A, Lokshin AE. Reliability of Tumor Markers, Chemokines, and Metastasis-Related Molecules in Serum. European Cytokine Network. 2009; 20: 21-26.
Gu Y, Lokshin AE, Liu M, Shore RE, Linkov F, Velikokhatnaya L, Koenig KL, Toniolo P, Marrangoni A, Zeleniuch-Jacquotte A, Arslan AA. Reproducilbility of Serum Cytokines and Growth Factors. Cytokine. 2009 Jan; 45(1): 44-49.
Arslan AA, Gu Y, Zeleniuch-Jacquotte A, Koenig KL, Liu M, Velikokhatnaya L, Shore RE, Toniolo P, Linkov F, Lokshin AE. Reproducibility of Serum Pituitary Hormones in Women. Cancer Epidemiology, Biomarkers & Prevention. 2008 Aug;17(8):1880-3.
Zeleniuch-Jacquotte A, Gu Y, Bruning PF, Bonfrer JM, Koenig KL, Arslan AA, Toniolo P, Shore RE. Re: C-reactive Protein and Risk of Breast Cancer. Journal of the National Cancer institute. 2008 Mar; 100(6): 443-4.
Zeleniuch-Jacquotte A, Gu Y, Shore RE, Koenig KL, Arslan AA, Kato I, Rinaldi S, Kaaks R, Toniolo P. Postmenopausal Levels of Sex Hormones and Risk of Breast Carcinoma in situ: Results of a Prospective Study. International Journal of Cancer. 2005; 114:323-327