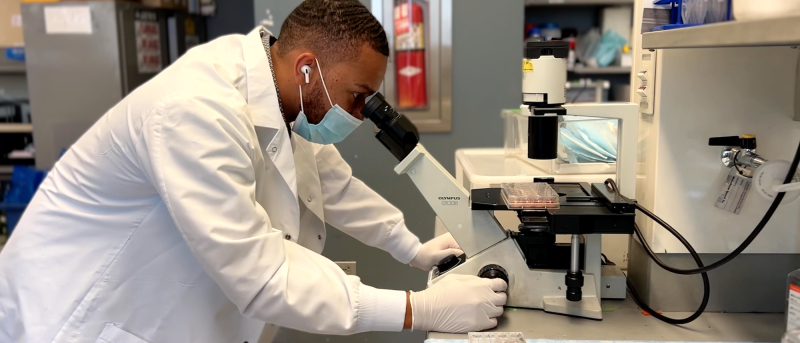 Nearly three dozen students from historically Black colleges and universities (HBCUs) joined Columbia biomedical research laboratories for a summer of science, as part of CUIMC's newest summer program: the Ernest E. Just Biomedical Research Scholars @ Columbia program.
The E.E. Just program—a collaboration between CUIMC and the United Negro College Fund (UNCF)—aims to increase the number of Black researchers at top-tier biomedical research institutions and the diversity of voices and experiences in the life sciences.
As part of the program, Mikelley Baptiste, a college student at Spelman College, got her first hands-on training in biomedical research in the laboratory of Amy Rumora, PhD, assistant professor of neurological sciences in the Department of Neurology.
"Working closely with the principal investigator has been the most valuable aspect of the program for me," says Baptiste, whose summer project explored how nerves in the hands and feet are damaged by diabetes. "And learning more in-depth about how diabetes affects people has reinforced my plans to become a physician and go into public health to help reduce those impacts, especially in minority populations which are disproportionately affected." [read more]
Source: CUIMC Newsroom