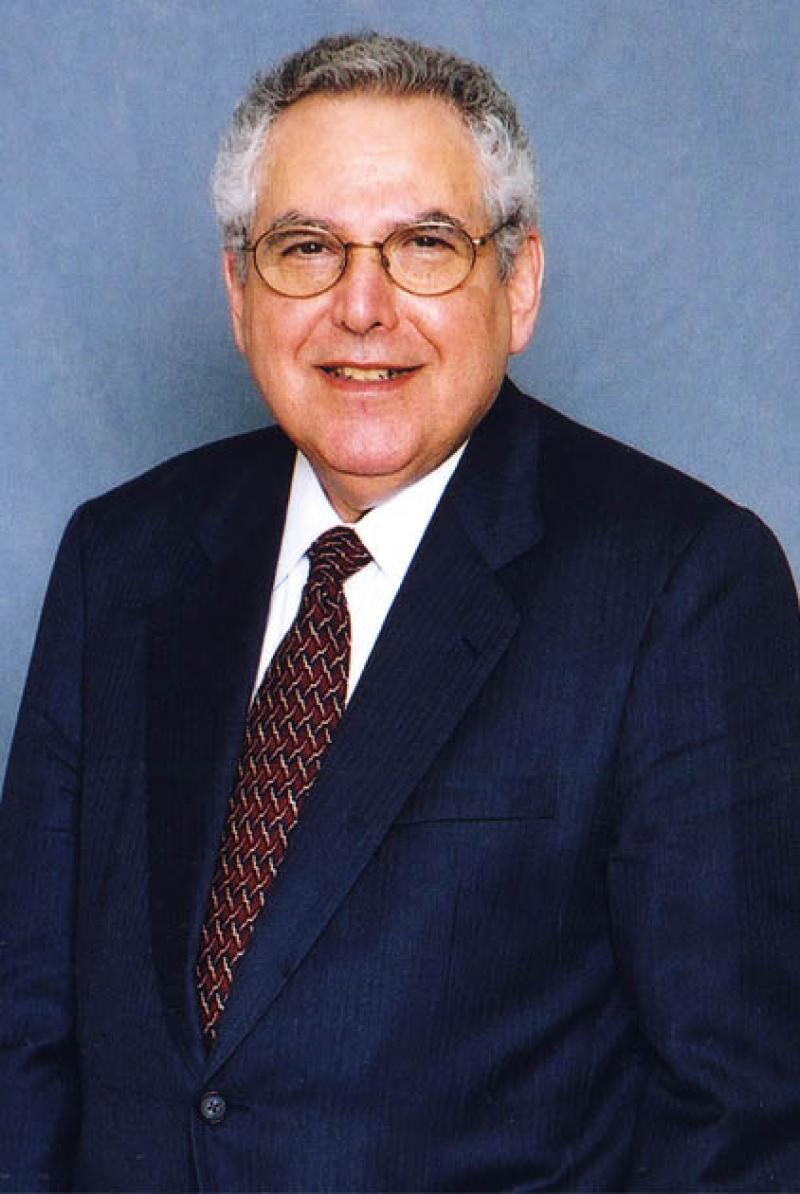 Overview
Stanley Fahn, MD, is the H. Houston Merritt Professor of Neurology and Director Emeritus of the Center for Parkinson's Disease and Other Movement Disorders at Columbia University in New York City. He served as President of the American Academy of Neurology (AAN) from 2001 to 2003. He served as the Scientific Director of the Parkinson's Disease Foundation from 1979 until 2016, when the Foundation merged into a new Parkinson's Foundation.
In 1985, he co-founded (with Dr. David Marsden) The Movement Disorder Society and chaired its Steering Committee for its first 3 years, and was then elected its first president after the Society's Constitution was ratified. He was the founding co‑editor of the journal Movement Disorders and served in this capacity for the first 10 years of the journal's existence, until 1996. He has also served as associate editor of journal, Neurology, for 10 years. Dr. Fahn has twice served as chairman of the Advisory Committee on Peripheral and Central Nervous System Drugs for the Food and Drug Administration.
With Dr. Ira Shoulson, Dr. Fahn co‑founded in 1986 the Parkinson Study Group (PSG), a consortium of clinical investigators dedicated to conducting controlled clinical trials on the prevention and treatment of Parkinson disease (PD). Dr. Fahn was elected and re-elected as co-chair of its Executive Committee and served for 20 years in that capacity.
He organized and executed the development of the Unified Parkinson's Disease Rating Scale (UPDRS) and modified and popularized the use of the Schwab‑England ADL scoring for global severity of this disease. He participated in developing the MDS-UPDRS that incorporates more nonmotor features of PD. He participated in clinical trials with the PSG of many pharmacotherapeutic agents for PD, including the ELLDOPA trial to study the effect of levodopa therapy on the natural history of PD, funded by the National Institutes of Health (NIH) and published in 2004. For this work, he was co-winner of the triennial Anne-Marie Opprecht Foundation Parkinson Award in 2005 for the most outstanding scientific work on PD published in the years 2002-2004. Another notable trial was the first controlled surgical trial for fetal tissue transplantation for patients with advanced PD. NIH selected Dr. Fahn to deliver the 2000 Neurodegeneration Lecture, and he was asked by NIH to serve on its Oversight Committee to review and give advice on clinical trials on neuroprotection for PD. Dr. Fahn and his scientific colleagues at Columbia University were awarded a Morris K. Udall Parkinson's Disease Research Center of Excellence by the NIH in 1999; it continued with Dr. Robert E. Burke as the next director. Dr. Fahn was selected to be chairman and chief organizer of the first ever World Parkinson Congress that was held in Washington, DC, in 2006. He subsequently organized the second and third World Parkinson Congresses, held in Glasgow, Scotland, in September 2010, and in Montreal, Canada, in October 2013, respectively. He stepped down from the presidency of the World Parkinson Coalition, the legal entity responsible for these congresses after the October 2013 Congress.
In dystonia, Dr. Fahn founded and directed the first Dystonia Clinical Research Center in the United States. This Center was responsible for determining the autosomal dominant inheritance pattern of torsion dystonia and for mapping several genes for this disorder, including DYT1, DYT5a, and DYT6. The Center characterized the natural history and clinical phenotype for idiopathic torsion dystonia, tardive dystonia and psychogenic dystonia, and has developed treatments currently used for these conditions. Dr. Fahn and Dr. David Marsden created the Fahn-Marsden Dystonia Rating Scale. He participated in panels to formally define and classify dystonia and the dystonic disorders, the most recent being published in July 2013. He co-organized the first four international dystonia symposia and published the proceedings of those conferences. Dr. Fahn was invited to talk on dystonia in a formal address at the 2001 World Congress of Neurology as the David Marsden Memorial Lecturer. Dr. Fahn was the Keynote Speaker at the international workshop on Treatment of Dystonia in Hannover, Germany, in 2013.
Dr. Fahn continues to organize and lecture in the annual course on Movement Disorders held in Aspen, Colorado, each summer. The 2015 course was the 25th consecutive year that this course was held. At that time, he turned the Course over to the International Parkinson's and Movement Disorder Society to organize; Dr. Fahn continues to lecture in the course. He organized the initial course on Movement Disorders for the AAN's self improvement program, Continuum. He also organized and chaired the first series of Movement Disorder courses at the AAN's annual meeting beginning in 1986 and had lectured in this course every year for more than 10 years, as well as a number of other courses at the AAN. He also founded the Unusual Movement Disorders Seminar at the AAN in 1981 and organized this seminar annually until he stepped aside after the 2001 seminar.
He received a number awards from a number of neurological organizations. The AAN honored Dr. Fahn with the Wartenberg Award for outstanding clinical research in 1986, for which he delivered a talk entitled "The Twists and Turns of Torsion Dystonia." The AAN also awarded him the first Movement Disorder Prize for outstanding contributions in this field in 1997, and its A. B. Baker Award for outstanding educator in neurology in 1996. The American Neurological Association, in 1988, awarded him the first Soriano Lectureship for excellence in research. He received the George C. Cotzias Biomedical Research Award from the Academy of Athens, Greece in 2004; the Gilberto Gamez Award from the Philippines Neurological Association in 2008; the First Wayne Hening Asward from the World Association of Sleep Medicine in 2009; the Luis Barraquer Ferré Award from the Spanish Neurological Society in 2010. The Movement Disorder Society presented him with its President's Distinguished Service Award in March 2005. He was awarded the Jay Van Andel Award for Outstanding Achievement in Parkinson's Disease Research from the Van Andel Research Institute in 2016. He has been elected as an Honorary Foreign Member of the Columbian, Spanish, French, Argentinian and Mexican neurological academies.
He also received awards from lay foundations. In 2007, he received the James Parkinson Medal, awarded once every 10 years by the Parkinson's Disease Foundation. Other foundation awards include the American Parkinson Disease Association's Springer Prize; the Huntington Disease Society of America's Guthrie Family Humanitarian Award; the Srinivasan Award in Chennai, India; the Parkinson's Disease Foundation's Page and William Black Lifetime Achievement Award; the Dystonia Medical Research Foundation's Distinguished Service Award; the Parkinson Society Canada's Donald Calne Award; the Tourette Association of America's Bruce Ochsman Lifetime Achievement Award; and the Benign Blepharospasm Research Fountadion enrolled him in their Hall Of Fame. The Dystonia Medical Research Foundation created the Stanley Fahn Fellowship in 1998 for trainees in dystonia research and elected him an Honorary Lifetime Member of its Board of Directors. The World Parkinson Coalition created the Stanley Fahn Travel Grant in 2012 and the Stanley Fahn awards for junior investigators in 2016.
The Movement Disorder Society honored him in 1993 by naming one of its two principal lectureships at its annual International Congresses after him.
In 2002, Dr. Fahn was elected a member of the Institute of Medicine of the US National Academies, now called the National Academy of Medicine. September 2007 saw the publication by Elsevier of a textbook on movement disorders titled, Principles and Practice of Movement Disorders, co-authored by Dr. Fahn and Dr. Joseph Jankovic. The second edition was published in 2011, with Dr. Mark Hallett joining as a third author. Dr. Fahn continues to be active in patient care, research, and teaching and has trained over 130 movement disorder fellows, including many who are professors of neurology around the globe.
Areas of Expertise / Conditions Treated
Huntington Disease
Movement Disorder
Parkinson's Disease
Tourette Syndrome
Academic Appointments
H. Houston Merritt Professor of Neurology
Administrative Titles
Director Emeritus of the Center for Parkinson's Disease and Other Movement Disorders
Hospital Affiliations
NewYork-Presbyterian / Columbia University Irving Medical Center
Schedule an Appointment
New and Existing Patients:
Connect Patient Portal
For existing patients, login to make an appointment, view documentation or contact your care provider.
Insurance Accepted
AgeWell
Medicare Managed Care
Special Needs
Capital District Physician Health Plan
Capital District Physician Health Plan
MVP Health Care
Child/Family Health Plus
Essential Plan
HMO
Medicaid Managed Care
*Please contact the provider's office directly to verify that your particular insurance is accepted.
Credentials & Experience
Education & Training
University of California San Francisco School of Medicine
Internship: Philadelphia General Hospital
Residency: Columbia Presbyterian Medical Center, NY
Research
A participant in clinical trials of many pharmacotherapeutic agents for PD, Dr. Fahn developed a clinical trial to study the effect of levodopa therapy on the natural history of PD, which is funded by NIH. He co-directed the first controlled surgical trial for fetal tissue transplantation for patients with advanced PD. He has co edited a number of volumes related to PD, dystonia, myoclonus and other movement disorders. Along with Dr. Ira Shoulson, Dr. Fahn was a co founder of the Parkinson Study Group (PSG), a consortium of clinical investigators dedicated to conduct controlled clinical trials on the prevention and treatment of Parkinson's disease. He was co principal investigator or Steering Committee member of several PSG multi center controlled clinical trials: DATATOP evaluated antioxidant agents in the early stages of the disease; trials testing lazabemide, a specific reversible MAO B inhibitor, in early PD; trials testing pramipexole, a dopamine agonist, in early PD; a trial testing entacapone, a peripherally acting catechol O methyltransferase inhibitor in advanced PD; trials of remacemide (a glutamate antagonist) for PD and dopa-induced dyskinesias; a trial of a transdermally absorbed dopamine agonist applied by a skin patch; trials of a water-soluble form of levodopa; and trials of rasagiline, another MAO-B inhibitor for both early and advanced PD. The latest clinical trial, currently ongoing, is to study an anti-apoptotic drug with the potential to slow the progressive worsening of PD.