Where to Live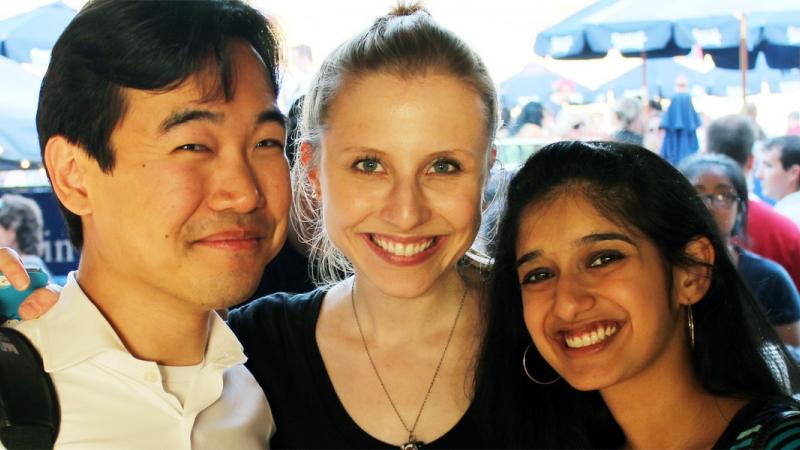 New York's many neighborhoods offer diverse and distinct features, and the city's ambiance can change dramatically in the course of a few blocks. Where one calls home very much affects the flavor of residency, and the choice is highly personal. Columbia Neurology residents travel to the hospital from throughout the five boroughs as well as New Jersey and Westchester. What follows are a few thoughts on some of the more popular neighborhoods.
Washington Heights
An apartment in Washington Heights offers a young doctor the opportunity to live among his or her patients, and to see the world that they see. This neighborhood is rich in culture and history, serving once as a battle station for George Washington before becoming a playground for the leisured middle class, then a haven for scores of immigrant families. Rent is less expensive in Washington Heights than farther south.
It is enriching, personally and professionally, to live in and be embedded in the very same community that we serve as physicians. Washington Heights is a real neighborhood built on warm and genuine relations, from my building to the bodega to the coffee shop on the corner. I enjoy procuring fresh veggies and specialty items every saturday at the Inwood farmer's market, followed by the obligatory capuccino and cake at Darling on Broadway. Place is bright, open, chill, delicious; perfect place for a well-caffeinated catch-up with my wife or some light reading. Sunday morning, instead, I enjoy my open-air Tai Chi classes in Ft Tryon park. Restaurant Margot on Broadway and 160th is the local go–to– honest Dominican homestyle, vaulted hall of the habichuela.
Aldo
Upper West Side
Many Columbia neurology residents are also residents of Manhattan's much-loved Upper West Side. The territory west of Central Park from 60th Street to 110th boasts charm, comfort, elegance, and excitement. It's a neighborhood that feels like a neighborhood, where schoolchildren stroll the sidewalk under canopy trees, and sidewalk cafes fill the evening with the murmur of conversation. Chief among this area's advantages is the easy commute it provides. The venerable, (mostly) reliable 1, A, and C trains careen beneath its streets, shuttling residents to and from the hospital at all hours and throughout the year.
Living on the upper west side is one of the best parts of being a Columbia neurology resident. You can enjoy free concerts in central park, excellent restaurants, or just a quiet walk through streets of beautiful brownstones.
Shennan
Midtown
I live in Hell's Kitchen/ midtown west (40s and 9th ave). Midtown west is a great neighborhood. It's a mix of old walkups (some remodeled) and new high rises. West of 8th ave is pretty busy but, surprisingly not annoyingly filled with tourists. This is even more true once you get to 10th and 11th ave. The 40s and 50s (and even the 30s) have amazing restaurants: ranging from cheap tasty street good to very fancy famous chef run restaurants. There are many bars and a few lounges. Some large dance clubs in area as well, but mainly bars. They are is always always busy, late into the night and always on weekends. It's very close to Hudson River park, which is awesome. You can bike ride, run, walk. The view from the park ( it's riverfront and runs from uptown down to financial district) is awesome. It's a great place to spend the day. Also, Central Park is close, as is Columbus circle.
Erika
New Jersey
I live in Fort Lee, New Jersey. I enjoy living there because it feels far from the hustle and bustle of the city, but is only 10 minutes from CUIMC and 20 minutes by car from the UWS. Conveniently, there is also a free CUIMC shuttle bus that runs hourly between the medical center and Fort Lee. When at home, I enjoy growing vegetables and herbs in a container garden on my patio. After a long day at the hospital, it is very relaxing to sit in the garden among tomatoes, eggplants, cucumbers, bell peppers, jalapeños, and so on. My wife and I also enjoy taking weekend day trips to places like Duke Farms, vineyards on the North Fork of Long Island, and the New York Botanical Garden in the Bronx.
Carl
Westchester
Westchester is a bit different from Manhattan! It's less crowded, quieter and most importantly – roomier. My wife and I moved to Fleetwood, because we were tired of paying high prices for an average apartment. We ended up buying a co-op apartment in a nice neighborhood, within walking distance to the metro north (30 min to grand central), multiple grocery stores and even a mall. We have a one year old boy and needed the extra bedroom and storage space. There are plenty of parks, flourishing green fields and endless jogging/biking trails. Despite the obvious lack of night life, you can see why a family man like me, would be happy here.

My time away from work is spent with my wife and son. There are plenty of movie theaters, awesome restaurants and shops spread across the many towns of Westchester. Our favorite shopping area is Ridge Hill, an outdoor shopping plaza nested in a the hills of Yonkers. We sometimes take longer trips to the mountains north or visit the beautiful beaches along the south coast of Long Island. Our daily activities include taking walks, or grabbing a slice of pizza or cup of coffee from around the neighborhood. I frequently go jogging on the Bronx River Greenway – a 23 mile long path that winds along the Bronx river.
Charles
In addition to the above areas, other popular neighborhoods include Brooklyn, Harlem, Greenwich Village and Upper East Side. Wherever you choose to live in New York, you are bound to experience variety and richness unparalleled by anywhere else in the country. You are bound to have an experience you'll never forget.